Now that the winter is winding down, it's time for spring cleaning fever! And what better place to start than your garage? Whether you need more space for your car or simply want to get rid of some old tools, sprucing up and organizing your garage is a perfect weekend activity. Plus, the results can be magical. Here are our spring cleaning tips for your garage, so your car can finally be a part of the household—somewhat.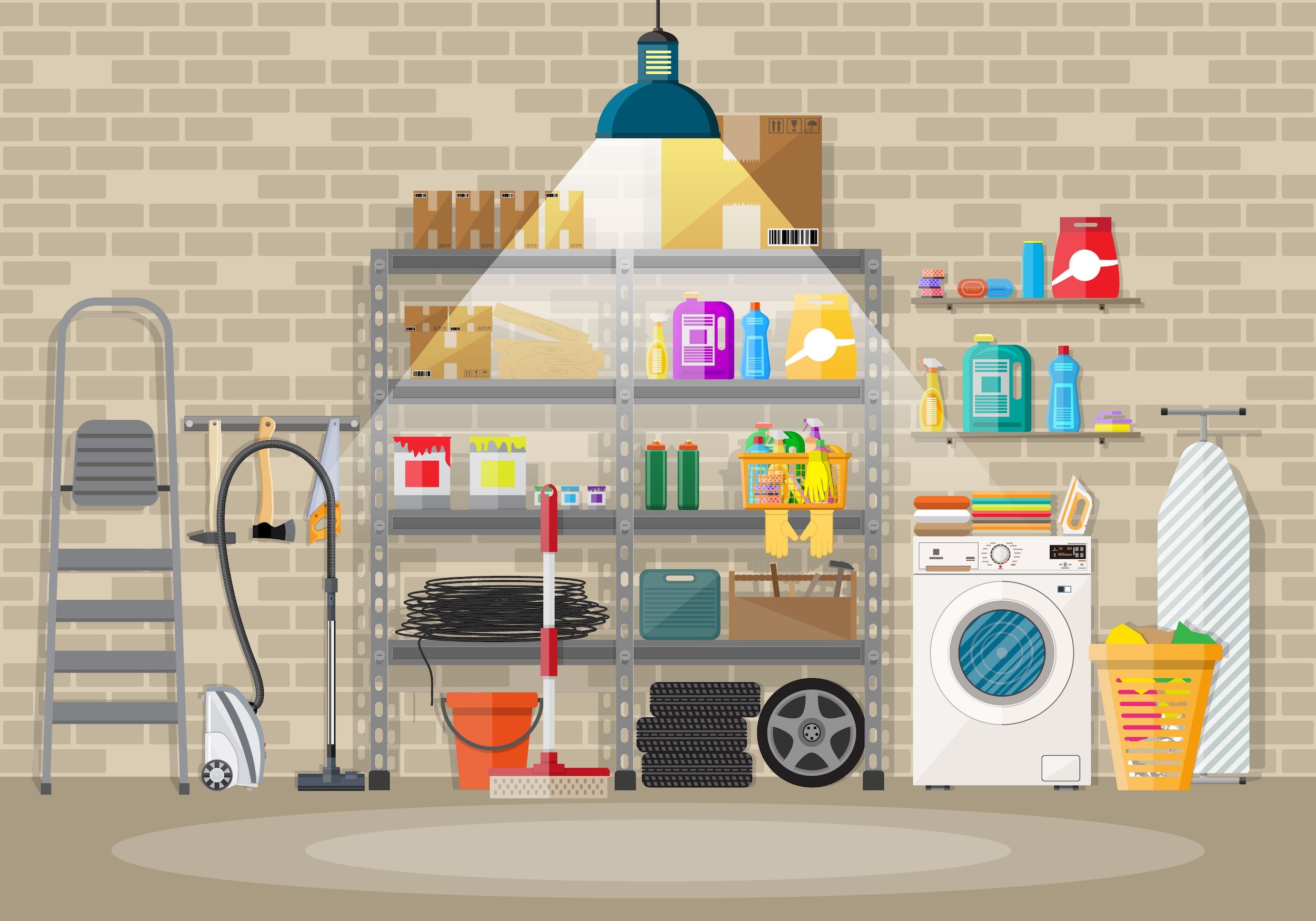 Prep Work
Before you march straight into our garage cleaning ideas, it's best to consider the prepping and planning stage.
Start by hauling everything out of your garage—your driveway is the ideal temporary storage location—and sorting it by categories. Many people split their items into piles: to toss, to sell, to keep, and to donate.
Next, give your garage a thorough cleaning. Sweep away the dried leaves. Dust away the cobwebs. Spray the corners and edges with insect repellent. Your job is to make your garage clean enough for your brother-in-law to live in, not clean enough to eat off the floor.
As a spring cleaning finale, the fun part: Organizing. Your best friend in a garage is its walls. You should be using every available inch of wall space before you even begin to store things on the floor. This will require shelving, pegboards, slat walls, hooks, and maybe even netting. Make a trip to your home improvement store or load up your Amazon shopping cart with all the necessities.
Bike Storage
There are several ways to store your bike in your garage without taking up too much space.
Most vertical bike racks don't save a lot of space because bikes hang as though they are driving up the wall. Vertical-tension two-bike racks are a better idea; these bike racks are made of poles that you can place close to the wall and hang your bikes one above the other.
You could also use tilt wall mounts to have more bike-storage options. Or simply use two heavy-duty hooks from the ceiling. Just latch the bike tires onto them when you're done with your ride, and hit the showers, stinky.
While you're working on bike storage in your garage, also consider installing a bike rack to your car or roof rails on your SUV. At your premier used car dealer near Kansas City, we can order and install most genuine auto parts and car accessories, including vehicle bike rails. Just ask our parts center!
Work Tables
Buy or build a Murphy-style work table that can be flipped up or down when it's not in use. You could also use a work table with wings or extension leaves; that way it can take up as little garage space as possible when not in use yet expand to the perfect size for any project. Adding wheels to the legs allows you to move the table to the ideal workspace easily.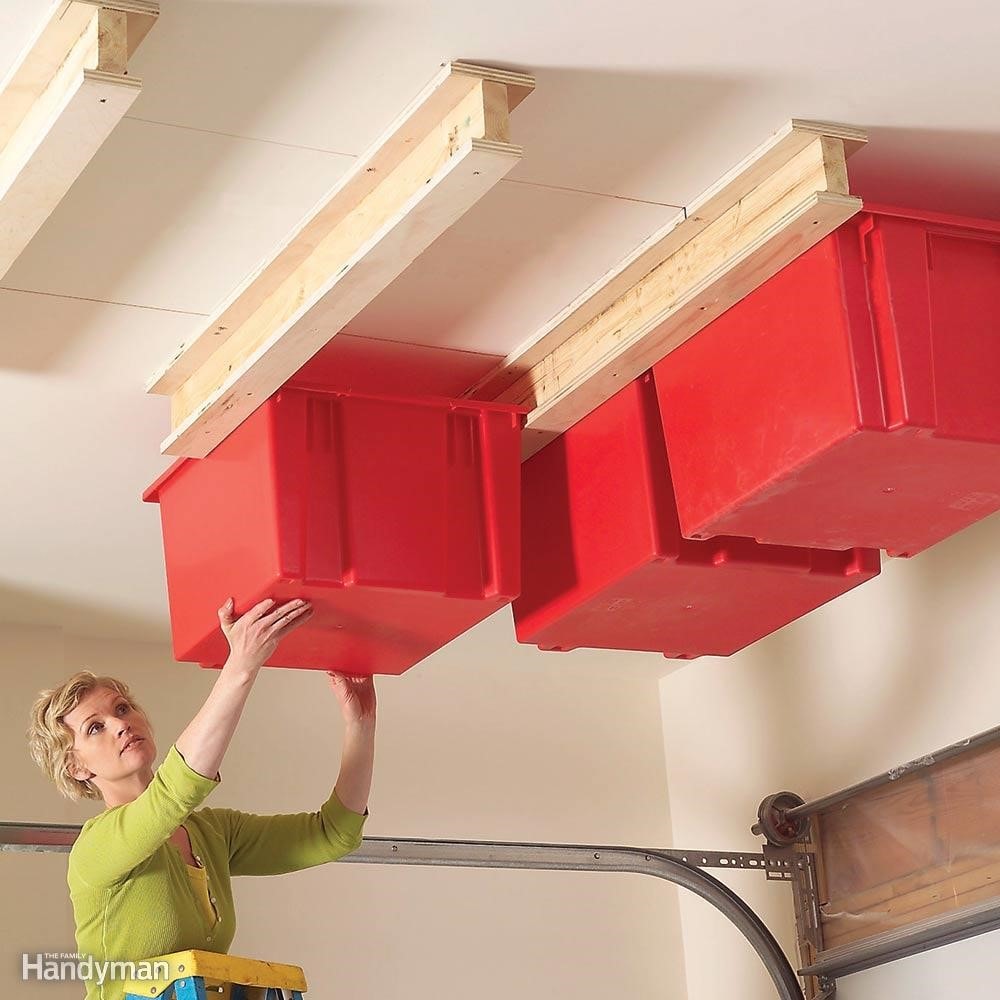 Seasonal Items
Shelving is the obvious choice for seasonal items. Use shelves that you can hang on the wall individually (like wire closet shelves) to free up floor space. A major benefit of separate shelves is you can space them out randomly for customized storage.
However, if you want to think outside the box, the ceiling is a great solution for seasonal garage storage. Think of it as an open attic; there are bin storage units you can buy, or if you're in the mood to build, you can convert 2×4's and plywood into carriages. No more seeing those Christmas lights and Halloween decorations in April!
Sports Equipment
Many garages have a lot of sporting gears, balls, and workout equipment lying around, unused for months or years. You could use a storage bench to keep the balls in, but that can be a waste of floor space. Instead, think of ways you can store everyone on the wall.
Hang wire baskets on the wall to place the balls in. You can even put them at different heights so your children can get to them without help. Another option is to use netting or a hammock to create hanging storage in the corner of the garage.
For the larger sports gear, such as bike pumps and golf clubs, some wall hooks work well, especially when installed high enough to make more room for your vehicle. That's the whole point of this spring cleaning project, isn't it? Your car should be in the garage!
Tools
If you don't have a tool shed, the chances are that you don't have tools or they're spread chaotically throughout your garage. If you're part of the latter camp, it's time to change your habits.
The most commonly used tool-storage method is hanging a pegboard on the walls. Use hooks and baskets to store tools in neat rows and categories. A variation on this method is to use slats on the wall to secure the hooks and baskets. The choice between the two materials is aesthetic and depends entirely on your design taste.
Also, consider installing clear parts bins that can be labeled. Keep all your nuts, bolts, screws, and nails there rather than tossed around in your toolbox.
Bonus Garage Cleaning Tips
While you make room for your car in the garage, consider these other handy cleaning ideas:
Extension cords can be unwieldy. Hang a heavy-duty, two-pronged hook on the wall and string a large-gauge chain through the middle of the wrapped cords. Thread the chain links on the hook prongs to easily store extension cords away from sight and off the floor.
Don't just lean your ladder against the wall; use hooks to hang it from the wall vertically or horizontally. Better yet, install moveable hooks that attach to your garage door's rail system. Bingo! Problem solved.
Store scrap wood in a trash can or even a custom-made storage box in the corner and away from your entryway. This prevents insects from making their way inside your home, so you can binge-watch Netflix without worrying about centipedes scurrying up your calf.
If you decide not to hang your gardening tools on the wall, you can put them in an old golf bag. It's more visually pleasing than a trash can, and the handle makes for easy transportation.
After you paint the house, consider doing away with the messy paint cans. Besides, when's the last time you've reused old paint? Instead of storing old cans, fill mason jars or other smaller storage containers with the leftover paint, and throw out the empty cans.
Your garage was built for your car, not general storage. But that doesn't mean you can't have both! With a little time and effort over a spring weekend, you can create enough room for both your car and your stuff, in the process turning your garage into the envy of the neighborhood.
Want to be the envy of more than just your neighborhood? Visit our used car dealership in Blue Springs, MO, to grab a fancy, new(ish) car at a great price. We have hundreds of used cars for sale near Kansas City and would be proud to help you fill your garage with one of them. Although McCarthy Pre-Owned Supercenter won't clean your garage for you, we can make it nicer by adding a quality pre-owned car into the mix.

Contact our Blue Springs used car lot at (816) 256-2632 to schedule a test drive or ask us about your used car loans and financing options.
Sources & Photos:
https://www.familyhandyman.com/garage/diy-tips-for-your-garage/view-all/
https://www.buzzfeed.com/mallorymcinnis/show-your-garage-who-is-in-charge?utm_term=.xepb4BZWy#.icnKVMPAN
https://www.hgtv.com/design/rooms/other-rooms/20-clever-garage-storage-hacks-pictures